"A girl should be two things: Who and what she wants." Said Coco Chanel. Perhaps the very basic need of any human is its identity and for a woman in the field dominated by men is nothing but her identity. Film Music is also one such domain wherein conventionally there have been mostly men who worked as musicians. Though there were many playback singers right from Amirbai Karnataki, Shamshad Begum and Lata Mangeshkar to Alka Yagnik and Shreya Ghoshal and composers like Saraswati Devi and Usha Khanna, musicians seldom had lady comrades sharing recording studio space with them. In this galaxy of musicians, there had been two lone stars whose works do need a mention today. They were – Lucila Pacheco and Zarin Daruwala.
Even though we are fascinated about our films and its charisma over generations, we have missed to chronicle the works of musicians who contributed in the making of legendary compositions. Tales and trivia have passed on mouth to mouth about them in bits and pieces and in that process, these two names have totally been forgotten. So this is an attempt to scratch the surface of time and discover the stories about these two ladies who played their instruments in those songs which are immortal today.
By late 40's when the world was recovering from the fatigue and farce of Second World War, a young couple landed on the docks of Bombay from Ceylon. They both were musicians and had a rich legacy behind their names. George Pacheco was a Saxophonist and his wife Lucila was Pianist as well as Saxophonist. Both had come to Bombay to try their luck on the rising scene of Jazz Music. Lucila passed the exams of Trinity College and Royal School of Music , London as a Pianist and began working as accompanying musician in Metro Theater and as a Piano demonstrator in L.M.Furtado & Co. music stores. She also started giving Piano lessons. Soon the time came when she was invited to be part of Mickey Correa's band that was a brooding ground for swing musicians. She played under the leadership of Ken Mac and Chic Chocolate. Both of them were the top dollar Jazz musicians of their time. By end of 40's Lucila was regular at Bombay Film Studios for recording under arranger Anthony Gonsalves.
Its only a matter of imagination how could be her experience of working with all men orchestra but one factor could have been into her favor. Over almost three decades , from 20's to 60's, the Jazz Music in hotels and clubs and eventually Film Music was dominated by Goan musicians. Lucilla , also being Goan by her paternal linage, would have the camaraderie of her fellow musicians. Although she was a regular Pianist, for the first time in Hindi Film Music, she played the electronic keyboard Solovox. We can listen the piece played by her on Solovox in two songs dinstinctly.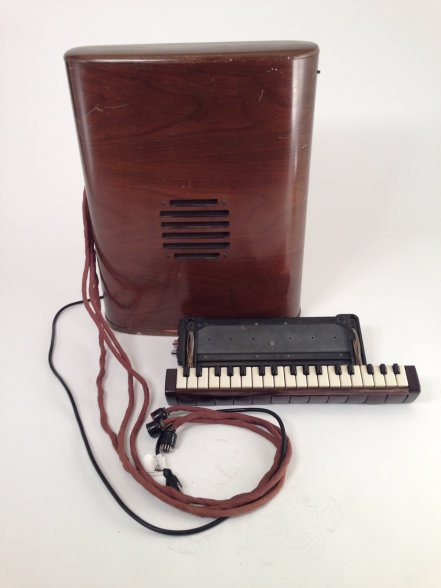 Sham E Gham Ki Kasam – Footpath (1953)
The first 17 seconds of intro music or prelude of this song has a music played on Solovox by Lucila Pacheco.
Pyar Kiya Toh Darna Kya – Mughal E Aazam (1960)
Its very heartening to notice that how only two seconds music piece can also be so important in the song. Precisely from 2.50 minutes to 2.52 minutes just before Lata Mangeshkar begins singing those immortal lines Pyar Kiya Toh Darna Kya…… Lucila Pacheco played that music piece on her Solovox. Its ingrained in the song like a jewel in the crown.
She also played for the first ever fusion album of Indian and Jazz music Raaga Jazz Style (1968) composed by composer duo Shankar Jaikishan. This was the first album that had names of all the musicians on its LP Cover. Lucila Pacheco's name is also mentioned as Pianist.
She spent her later years in her Bandra Hill Road residence giving Piano lessons and quietly passed on in 1989.
While Lucila Pacheco almost lived unsung, Zarin Daruwala was little luckier to get name and acknowledgement in Hindi Film Industry's music world as that parsi girl.
As a Child Prodigy, Zarin was deeply interested to learn and play Sarod. It was very unusual in those days of 50's when a girl played Sarod. She learnt the instrument from Haripada Ghosh. Having been facilitated in Swami Haridas Sammelan for her playing, little Zarin had got her skills honed. Soon in 1960, she had her first opportunity to play for films. She played for the first time in the title score of Maasoom (1960). Later, she played for all the top composers like Roshan, Kalyanji Anandji, Shankar Jaikishan, R.D.Burman etc.
It was in the film studios of Bombay where Zarin met her future husband and Sitarist Ashok Sharma. He was son of Pandit Bhagat Ram of Husnlal – Bhagat Ram composer duo. Often, Zarin Daruwala had opportunity to play Sarod pieces in tandem with Sitar pieces with musicians like Pt. Jairam Acharya, Ustad Imrat Khan, Ustad Rais Khan etc.
Zarin Daruwala played many solo pieces as well on Sarod in many songs. Lets have look at few songs wherein she had played.
Bole Re Papihara – Guddi (1971)
A classical score by Puritan Vasant Desai. We can clearly listen to the Sarod in the interludes of this song. Even though Sarod is played in tandem with Sitar, the sound of Sarod is kept dominant which has highlighted the skill of Zarin Daruwala.
Iss Mod Se Jate Hain – Aandhi (1975)
In this enchanting collaboration of Gulzar, Pancham, Lata Mangeshkar and Kishore Kumar, the vital role was also played by Zarin Daruwala's Sarod. She had her solo piece in the first interlude that gets syncopated with Sitar in same melodic phrase. Second Interlude has dominant Sitar in similar syncopation.
Naam Gum Jayega – Kinara (1977)
One of the finest melodies based on Raag Yaman. We can enjoy the Sarod piece in the first interlude with soft syncopated Sitar. Second Interlude is totally dominated by only solo Sarod. Once in an interview, Zarin Daruwala said that Pancham always respected and gave freedom to senior musicians to play their pieces. Perhaps, this solo piece can highlight this aspect.
Pt. Zarin Daruwala stayed in Bhayandar with her husband Pt. Ashok Sharma in her later years and passed on in 2014.
If Music and Musicians' work is chronicled in organized manner, perhaps we can have more detailed accounts of unsung female musicians like Lucila Pacheco and Zarin Daruwala. Its really a matter of respect and pride how they had worked in male dominated Industry five to six decades ago. Their contribution and skills paved the way for other aspiring female artists.
(Bibliographic References – "A Woman in Man's World" by Naresh Fernandes, tajmahalfoxtrot.com and "That Parsi Girl" by Rudradeep Bhattacharjee, scroll.in)