"It gives me great pleasure indeed to see the stubbornness of an incorrigible nonconformist warmly acclaimed." Said Albert Einstein once and that proved true for maverick composers like O.P.Nayyar too. He never changed his rules for any one nor confirmed to contemporary trends of composing music for any of his producers. Having been stubborn, he did create his niche. Today, the same is considered a genre, a type.
His niche was not only timeless melodies but also the innovations that he did in Rhythm. It is very interesting to know how a composer thinks and when he transforms his thought process on magnetic tape in the form of recording, the music creates magic. There are many innovations apart from his favorite clip clop Ghoda Gadi beats that OP did in his music. These were the change in patterns the way rhythm structure was built up, amalgamation of cross country percussion instruments and making variations in conventional Indian Rhythm.
In this article, lets try to explore and highlight these nuances in Rhythm that OPN composed.
Variations in Taal Keherwa (Indian Rhythm)
Nayyar brought his Punjabi flavor in music. He used the famous Punjabi Theka of Dholak which is nothing but a pattern of Taal Keherwa very efficiently in his songs. If follows the cycle of eight beats in same interval which is dha – ge – na – ti – na – ka – dhi – na . This eight beat Rhythm structure became popular in Hindi Film Music due to its flexibility and elasticity of variations. Each variation is called a Theka. In each variation, the basic structure or count of beats remains same. Only the time interval between each beat varies. OPN used this Taal in many Theka's. Lets look at couple of songs for example.
Kabhi Aar Kabhi Paar – Aar Paar (1954)
This song features basic Keherwa Theka on Dholak in Mukhda and western rhythm on Contra Bass in the Interludes.
Bahut Shukriya – Ek Musafir Ek Haseena (1962)
One of very few songs which begins with Indian Rhythm and it is famous Punjabi Theka on Dholak. Throughout the song the same beats flows and creates mesmerizing impact when blended with melody on Harmonium and Strings.
Aao Huzur Tumko – Kismat (1968)
The same Taal Keherwa is used with little variation on Dholak in Mukhda and Anatara. The Interludes are played on Conga drums with western 4X4 beats which has same beats cycle as Keherwa. We can listen to same Theka in the song Babuji Dheere Chalna also.
Cultural Blend of Percussion Instruments
Hindi Film Music is the oldest form of Popular Fusion Music. Much before the term 'Fusion' was coined, there has been great deal of amalgamation of multiple genre of music happening in our Hindi Films. Western Symphony with Indian Classical, Jazz, Blues and Folk etc. Every Composer has contributed his share in enriching this new genre called Film Music. O.P.Nayyar too had added new dimensions in it in his own unique way.
He used Castanets freely in most of his compositions. Castanets are Spanish folk percussion instrument and used in Flamenco music. OPN picked up Castanets and blended them with sometimes Indian Dholak, Sometimes with Western Contra Bass and sometimes with both.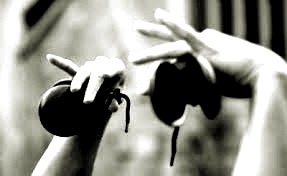 Following are two songs where Castanets have been used in sync with other rhythm instruments.
Aye Dil Hai Mushkil – C.I.D. (1956)
Aye Dil Hai Mushkil…. has simply Contra Bass as basic rhythm for Waltz and complementing Castanets that enriches the feel .
Boojh Mera Kya Naav Re – C.I.D. (1956)
Another gem from the same film. This song is a great example of fusion. The song is picturized on the village girls near bank of river. It has absolute rural set up. The song has Indian Dholak with Spanish Castanets in Mukhada and Antara and Symphonic Contra Bass in the Interludes.
Redefining Contemporary Rhythm Struct

ur

e
Mid 50's to early 60's was a period when largely Music Directors had been emphasizing more on the grandeur of the melody section of orchestra. Rhythm was mainly on Dholak or Tabla for Mukhda and for Interludes and sometimes for Antara, Contra Bass or Bongos were used. Ofcourse there were exceptions but largely this pattern was in practice. O.P.Nayyar used a heterogeneous mix of Instruments. He used Dholak, Bass, Bongo's and Snare Drums along with Castanets in same song. In many places he made Castanets a primary instrument which usually was used as secondary percussion instrument. Lets look at few songs to understand this better –
Aaiye Meherbaan – Howrah Bridge (1958)
One of O.P.Nayyar's most memorable and hit compositions. Its rhythm build up consisted of Bongos, Dholak, Chinese Blocks, Contra Bass and Tambourine. Considering the trend of those times, this was indeed a brilliant experiment.
Humdum Mere – Phir Wohi Dil Laya Hun (1963)
Phir Wohi Dil Laya Hoon was one of the milestone movies in OPN's career. All songs of this film were having one or another unique highlight. This one is also a brilliant example of quick synchronous rhythm with multiple instruments. It has Dholak, Castanets, Snare Drums and Bass for rhythm. The swiftness with which the beats move from Dholak to Snare Drums and then to Bass with Castanets is really exemplary.
Every Musical Marvel first gets conceived in the in the mind of musician or composer and then it takes form of a composition. This simply explains that how was O.P.Nayyar's thought process as a composer. His lateral thinking and innovative approach to minutest part of composition made him truly a great composer.